Heart of the City
Fred VanVleet and Penny Appeal Canada are teaming up to launch an initiative called "Heart of the City" with multiple projects planned for the year to support at-risk communities in Toronto.
Fred VanVleet x Penny Appeal Canada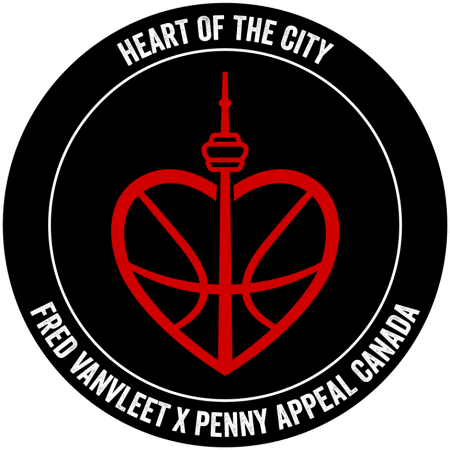 Heart of the City is a joint initiative between Fred VanVleet and Penny Appeal Canada that includes multiple projects planned for the year to support at-risk communities in Toronto.
The first program will be a distribution of 1,000 custom backpacks to students across the Greater Toronto Area (GTA). Penny Appeal Canada has already distributed 3,000 backpacks across the country and we've now increased to another 1,000 after launching this initiative. 
Donate Now
Your donation will provide a back to a student to help them start the school year.
"We felt so disconnected from our fans in Toronto last year while playing in Tampa so I'm excited to be out there in the streets of Toronto, meeting our fans and putting a smile on their face"
Fred VanVleet
Fred VanVleet
Fred VanVleet was born and raised in Rockford, Illinois, a town almost 2 hours outside of Chicago. Fred went to high school in Rockford and was an All-State first team selection and stayed loyal to his local Rockford AAU team instead of playing for a bigger team in Chicago.
VanVleet committed to the Wichita State Shockers. They famously shocked the nation leading the team to a Sweet 16 appearance in his freshman season, the first in school history. He finished out his college career earning numerous personal accolades. He entered the 2016 NBA Draft, going undrafted after declining offers from NBA teams to be drafted in the second round and playing in the NBA G-League.
And so the mantra of "BET ON YOURSELF" was born. Fred signed a summer league deal with the Toronto Raptors, playing himself into a mult-year contract with the team and the rest is history. He was a focal point in the Toronto Raptors 2019 Championship run, with unbelievable scoring performances in the Eastern Conference Finals against the Milwaukee Bucks and NBA Finals against the Golden State Warriors.
Just like Fred VanVleet's hard work, determination, and teamwork has made him a champion on the court, his efforts in the community have made him a champion off the court as well. Fred has done numerous events in his hometown of Rockford giving back to his community. And now, he is partnering with Penny Appeal Canada to give back to the community right here in Toronto as well as he will be distributing 1,000 backpacks to schools in need across the region.