Gaza Emergency Response
Gaza is under bombardment after the recent conflict. Help us provide essential medicine and diesel fuel for the generators powering medical facilities within the Gaza Strip. Your support is crucial during these challenging times. Penny Appeal Canada is the only charity in Canada that has signed a Memorandum of Understanding with the Egyptian Red Crescent to distribute aid relief to Gaza. For more information
click here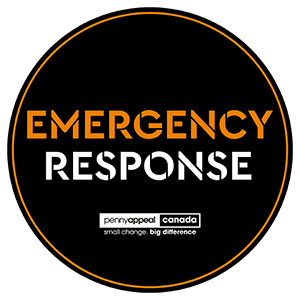 What is happening in Gaza?
Gaza is currently experiencing a humanitarian crisis. The situation is deeply concerning, with over 15,899 Palestinian deaths of which over 6600 are children. We need your generous donations to help us provide life-saving medical care and essential food items.
As the conflict intensifies and threatens the lives of many in the Gaza Strip, we anticipate multiple civilian casualties, particularly women and children. The crisis is placing an enormous burden on local hospitals and emergency medical response facilities. As electricity supplies are cut off, a steady supply of fuel is required to keep hospitals and equipment operational. Our brothers and sisters in Gaza need our unwavering support, prayers (dua), and emergency assistance.
Innocent civilians killed
60% of the houses in Gaza have been fully or partially destroyed
Frequently Asked Questions
Penny Appeal Canada is taking an integrated approach by working directly with trusted local organizations,  who are registered UN partners. Supplies and services will be secured through these organizations and local suppliers. We work with partner organizations who have undergone a rigorous screening process to ensure they comply with the requirements set out by the Canadian Government, as well as with Penny Appeal Canada programmatic and reporting requirements.
Yes. PAC also has representatives on the ground conducting needs assessments on an urgent basis, especially in the early days of the crisis, to determine who has been adversely affected and what kind of urgent or long term support they will require. We rely on the knowledge, capacity, and resources of local NGOs who conduct real time assessments of the situation on the ground as it develops.

Based on the updates we have received in the past 24 hours, the following needs are most urgent:
Fuel to keep hospitals and medical equipment operational

Medical supplies and medication

Daily essentials for displaced families: food, clean water, hygiene kits

Emergency kits for displaced families: blankets, first aid kits, solar powered lights.
Since the organizations we work with are based in Gaza and registered with the UN and other international agencies, they have access to the warehouses that stock relief items. Additionally, the staff and community members are invested in ensuring   the relief items reach those in most need. 
Distributions of the necessities take place in temporary shelters, hospitals and where most needed across the city. We also request proof of the distribution through photos and videos wherever possible.

100% Zakat Eligible
This program is Zakat Eligible! With Penny Appeal Canada, you can be sure 100% of your Zakat goes to those in need.